Giants @ Dodgers
12:45pm
Game 3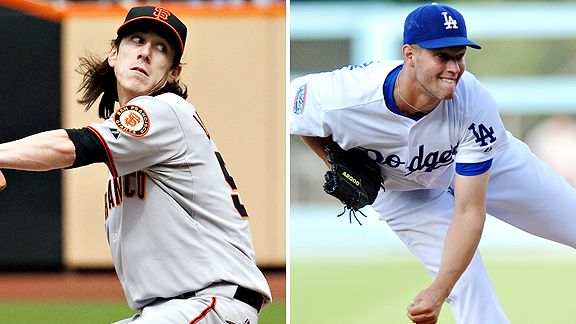 The Freak Goes Up Against Kersh
Last night I didn't even bother to watch the 9th inning. I just can't stand Blackbeard. It didn't matter much anyways, so now we wake up with the exact same record as the Padres tied for 4th place also known as last place in the division. The Dodgers will try to win one in this Giants series and not lose 7 straight to the despised rivals before heading home for a much-needed day off and homestand. The Nationals come into Los Angeles for a weekend series.
Clayton Kershaw (10-4, 2.88) will try to snap this losing streak for the Dodgers. He's been excellent this season, and we can't really ask much more from this young phenom. Tim Lincecum (8-7, 2.99) will be rematched against Kersh. The last time these two aces butted heads was Opening Day back on March 31 at Dodger Stadium. Remember that? Linceum pitched well through 7 innings only allowing 1 run off 5 hits, but Clayton Kershaw came out victorious in 7 shut-out innings and the Dodgers went on to win 2-1. Clayton Kershaw is a better pitcher in my opinion. Lincecum isn't
that
great, and he has had an just an okay year at home this season. He did win the Cy Young Award in both 2008 & 2009, so he's a formidable foe. In 12 games vs. the Dodgers, long-haired Lincecum has a 5-2 record with a 3.22 ERA. Kershaw has played very well against the Giants and has a 3-1 record against them with a 1.62 ERA in 9 games.
Interestingly Clayton Kershaw sits at #18 for best ERA in the majors and Lincecum is #20. Kersh is #1 in the majors in strikeouts with 155. Lincecum & Halladay are tied in 6th with 139.
Lineup:
Gwynn 7
Furcal 6
Ethier 9
Kemp 8
Rivera 3
Navarro 2
Uribe 5
Carroll 4
Kersh 1
Looks like Loney is getting the day off, and Rivera will be at first base. Dre is back in the lineup after resting his knee. Gwynn & Hit Machine will be hitting 1st & 2nd, so hopefully they can get on base for Dre and Bison.
Go Blue:)